This week TVIB's staff participated in the first annual USCG Oversight Workshop at Sector Houston-Galveston. The newly formed Flag State Control Division CG-CVC-4, headed up by CDR Michael Simbulan, put together a 3-day workshop. In his opening remarks, RADM John P. Nadeau, Assistant Commandant for Prevention Policy, told the USCG personnel in attendance that they are charged with being "ready, relevant and responsive." He finished his comments by telling all in attendance "We're in this together. TPO failure is Coast Guard failure. Their success is our success." TVIB staff took this as a very encouraging sign and believe it's to our mutual benefit to establish solid working relationships.
"We're in this together. TPO failure is Coast Guard failure. Their success is our success." RADM John P. Nadeau, U.S. Coast Guard Assistant Commandant for Prevention Policy
The first day was attended by TPOs, classification societies and USCG marine inspectors from around the country. The next two days were scheduled for the marine inspectors only, to conduct training on the oversight activities of CG-CVC-4. This division was stood up as a result of the investigation from the El Faro and the need for increased oversight for third parties that conduct activities on behalf of the Coast Guard. The oversight responsibilities of this new division are much broader than Subchapter M.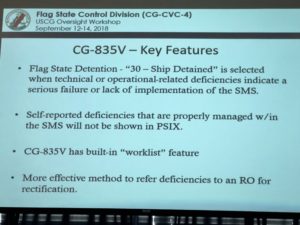 TVIB was asked to discuss Subchapter M from a TPO Perspective. Chris Parsonage, Executive Director for TVIB, addressed the role of a TPO, TPO responsibilities, the survey and audit reports and their function as objective evidence, and the relationship between the TPO and the USCG. Chris finished with the benefits of the TSMS option such as improving safety and operational effectiveness as well as the recently highlighted opportunity for TSMS option vessels to request their TPO to clear deficiencies noted on a CG-835V. We'll be working directly with our TPO customers in the coming days to ensure they know how to take benefit of this option. Calling on your TPO to clear a deficiency is likely to expedite the process of clearing out deficiencies if an operator does not have to wait on a marine inspector. Our auditors and surveyors are generally available and willing to go out when called.
TVIB staff also had the opportunity for a one-on-one conversation with RADM Nadeau where we were able to communicate issues that we face as a TPO as well as those faced by our TPO customers. This presented an opportunity to advocate for a simplified COI application process that would be used consistently from district to district and OCMI to OCMI. We are preparing a marked-up vessel particulars document in hopes of streamlining the data collection activity for the marine inspector by eliminating questions that are not relevant to inland towing vessel operations or helping to clarify terminology.
TVIB appreciates the opportunity to participate in this forum. We had access to leadership from the TVNCOE with CDR Andrew Bender and CG-CVC with Capt. Matt Edwards. Any time we can get together to share concerns and develop strategies we increase understanding all around.  This forum presented us with an opportunity to put faces to names for many of the sector and unit personnel we regularly work with. We thank all of our industry partners and the marine inspectors that came in for this session.